YOU CHOOSE THE DESTINATION,




WE BRING THE FUN!
Travel, play, discover and win
Welcome to Wonder Experience! We're an innovative platform that links travelers with local partners establishments to offer a truly authentic and culturally immersive experience.
We provide customized and gamified tourist itineraries that not only encompass renowned landmarks but also invite you to uncover hidden treasures and engage in one-of-a-kind adventures. Additionally, through our gamification system, travelers can exchange the points they earn by completing the route or exploring additional destinations for fantastic rewards.
Join today and become a part of the global community of travelers and affiliates at Wonder Experience
​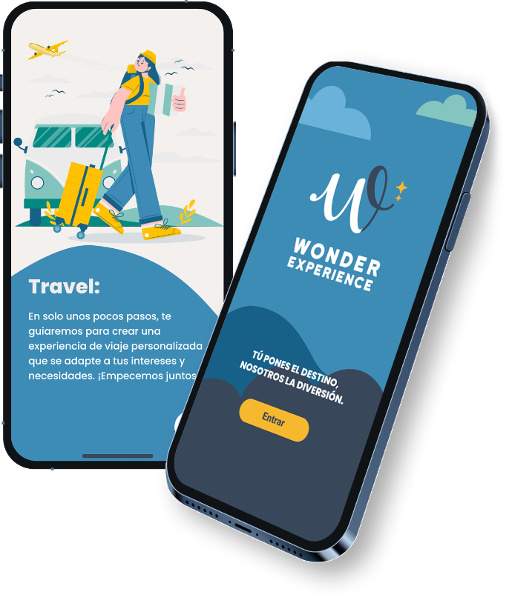 01 Download
Download the app and create your account to start your personalized experience.
02 Travel
​Choose your next destination and help us get to know you better and personalize your journey by answering a few questions
03 Play
Navega por el mapa en busca de los puntos de tu ruta: Explora nuestro mapa interactivo y descubre los lugares que incluiremos en tu ruta personalizada.


04 Discover
Browse the map to find the points on your route: Explore our interactive map and discover the places we'll include in your personalized itinerary


05 and Win!
Gain points by living new experiences and redeem them for exciting adventures.

Discover new experiences and create your own adventure
How does it work?
Intuitive interface for a user-friendly experience
We create unique routes for each traveler based on their tastes and preferences.
Creating personalized routes means designing a unique itinerary tailored to the tastes and preferences of each traveler. And what else?
With the help of our gamified system and responses to some questions, we can suggest points of interest and specific activities that align with individual preferences. This enables travelers to explore destinations in a more authentic manner and enjoy unique, personalized experiences. Furthermore, our platform connects travelers with local affiliated establishments, offering them the opportunity to experience local culture in a more connected and authentic way.
Earn points for exploring with Wonder Experience and redeem them for rewards.
At Wonder Experience, we value your exploration and want to reward you for it. It sounds interesnting!
Each time you complete the visit to one of the places on your personalized route, you'll earn points, and when you finish your route, you can redeem them for unique and exciting experiences on the same or your next trip.
So don't miss the opportunity to discover new places and earn rewards while you do it!
Additionally, you can also earn extra points by visiting sites that are outside of your personalized route. So feel free to venture out and discover new places on your own – you could earn even more points and redeem them for additional exciting rewards! Join our community of travelers and start exploring today.
We integrate the tourist offer into a single platform.
From leisure and experiences to adventure sports and gastronomy, so you can customize and enjoy your trip all in one place.